It's almost hard to believe such a statement, when it sounds so backwards. Researchers and economists have come out with some interesting correlations, stats and figures that will make you go "hmmm".
Before we dive into the new research that states watching violence and porn can reduce real crime, let's take a look at laboratory experiments stating the opposite. The basic conclusion of most laboratory experiments is that watching violent images and video, will in fact cause parts of your brain that suppress aggressive behaviors to become less active.
Studies were done in a Columbia University Medical Center laboratory environment. When exposing participants to violent media their brains were monitored using Functional Magnetic Resonance Imaging (fMRI). To simplify the conclusions, it came down to two findings of interest. The first finding was that the brain was not stopping violent behaviors as much as it was before viewing violent media. The next finding was that the brain was more active in the area associated with planning behaviors. To get a more in depth view of this study you can find a great description here.
While the laboratory studies are hard to refute, other researchers from the University of California at San Diego and Berkeley found other conclusions using real world data. A major difference between the two sets of data was that one set of conclusions was created in a laboratory while the other uses business and crime statistics.
What do you get when you combine movie attendance and violent crime statistics? Apparently, you get a wild correlation that says due to violent movies showing in theaters, you pull violent crime offenders off the streets and give them something better to do.
Instead of committing the violent crimes that these potential offenders would be partaking in, they're stuffing their faces with popcorn and drinking overpriced coke. The quick conclusion would probably be to assume that as soon as these movie patrons leave their violent movie showing, they're back to the same old dirty tricks. In reality, up to 6 hours after the violent movie showing, crime is reduced even more than when they were in the movie!
The actual numbers explain more and paint a better picture about how these conclusions were drawn. The biggest time for movie showings is 6PM - 12AM, and it is at this magical time that every one million violent movie patrons seems to reduce crime during this time by 1.1 to 1.3 percent. After people leave the movie, the time-frame of 12AM to 6PM sees an even more drastic drop in violent crime. Interesting to note is that the actual violence isn't the only thing being focused on that reduces violent crime but the lack of other extracurricular activities. It is said that while patrons are in a movie, they aren't consuming alcohol thus fueling their violent behaviors.
Basically, you're throwing the dog a t-bone steak while you get a good look around the junkyard. The actual crimes that are said to be reduced during a weekend with a popular violent movie is estimated to be 1,000 violent crimes a weekend. That's a reduction of 52,000 violent crimes a year, assuming Hollywood can crank out enough violent films to keep everyone occupied. If you want a more in depth look at the full study you can access the PDF version from University of Rochester here.
Now that it's been unveiled as to how crime is decreasing due to violent movies we can look at porn. Once again this research was not completed in a private laboratory but calculated using real world statistics. The statistics only provide a simple view as to what is really going on because correlation is strongly used. We all should know that correlation does not bring you to causation.
The research that was conducted in this project was done by former consultant to President Nixon's Commission on Obscenity and Pornography. This consultant holds many titles such as Professor of Law at Northwestern University, J.D. Harvard 1961, Ph.D. Columbia 1968, Social Science Research Council Fellow in Advanced Statistics at University of Michigan, 1968. So for all the die hards focused on accolades, you can rest assured this information has been procured from the top of the pile.
Professor Antony D'Amato came to the following conclusions, which can be scoured more in depth in his guest column here. The first major statistic to take note of is the 85% decrease in sexual violence in 25 years. This statistic is released by none other than the U.S. Department of Justice. The exact figures state that there were 2.7 rapes for every 1,000 people in 1980. By the time 2004 rolled around, the same survey found rape had decreased to 0.4 per 1,000 people.
The interesting details of this study dive into Internet access by state and combine it with rape convictions on the books. The research breaks the states down into two groups of interest. The first group is the states with the lowest Internet Access and the second group is the states with the most Internet access. If you're curious, the states with the lowest Internet access in 2001 were Arkansas, Kentucky, Minnesota and West Virginia.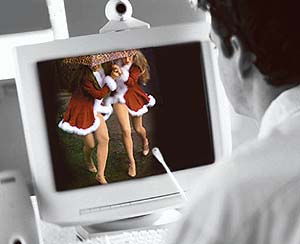 On a more surprising note, the states with the highest Internet Access in 2001 were Alaska, Colorado, New Jersey and Washington. With all of these states, incidence of rape was tallied for 1980 and then again for the year 2000.
When everything is combined into a nice and easy to understand statistic you find that states that had least amount of Internet access statewide had an increase of rape over the 20 year period. The rape crimes in low Internet access states clock in at a 53% increase. Now looking at the states with the most Internet access statewide you find that they had a 27% decrease in rape cases. While it is hard to get all riled up about these statistic due to potential flaws it is an extremely interesting look at statistics going against common thought. Just because people have more Internet access doesn't really say they are viewing more porn and satisfying the deeper desires. Nevertheless, you can see how interesting the world can be when looking at the true facts instead of hysteria.
What do you think about these studies? Whether you think all these studies are just hiding the real facts or you see some insight and truth in them, we want to know about it. If it's a gripe or extra information and research we'd like to hear from you at our submission form. If you want to speak your mind or you are involved in the movie industry, porn industry or you just want to speak your mind we want to hear from you. Tell us your story and thoughts at our submission form.
Share This
21 Comments to "Watching violence and porn could reduce violent crime and rape"
on 08 Jan 2008 at 9:33 pm

1

speedracer

I can see where porn could fill some type of void and therefore less individuals have the need to act on impulses for their release - both literally and figuratively.

on 08 Jan 2008 at 10:24 pm

2

B

Instead of focusing on the statistics, why not focus on the heart of the matter, which is the mind of a rapist. Would any trained mental health professional argue that the best way to deal with potential rapists is to let them view pornography and violence? I doubt it. The reason is that the endorphines released by an individual while watching pornography and violence are the same released during a rape — it is quite literally a drug high. Constantly stimulating an artificial high does not solve the problem, and will eventually require a real physical higher-high. This is not rocket science, and any clinical doctor worth half his/her salary will tell you that. Just look at sexual addiction — the final act is just that, an act, and an increasing desire to get a better fix.

On another note, you did nothing but advertise the study. Why don't you offer up some suggestions for dealing with rapists and sexual predators, and maybe get some real discussion going. How can communities protect themselves? Are there signs to detect an individual you know closely might be a rapist, or headed down that road? This post does nothing but perpetuate ignorance on sites like Digg by offering up not a single solution.

on 08 Jan 2008 at 11:08 pm

3

Brian

A couple of corrections on an otherwise wonderful article:

Berkeley is spelled with an "e" after the l and before the y (not "Berkely.")
"Rochester University" is actually the "University of Rochester."

on 09 Jan 2008 at 1:40 am

4

CalBear

on 09 Jan 2008 at 1:53 am

5

redneb

so a person could watch violent porn and take rape and crime out at once! haha thats cool

on 09 Jan 2008 at 2:43 am

6

Steve

I would love to see the look on Jack Thompson's face when he hears about this.

on 09 Jan 2008 at 6:57 pm

7

Jamie

CalBear…. you are a genius!

on 09 Jan 2008 at 8:20 pm

8

rizz

Bixnood you are an ignorant bigot. I hope your are struck by an automobile while taking your children out for ice cream.

on 09 Jan 2008 at 8:41 pm

9

RD

"lowest Internet access in 2001 were Arkansas, Kentucky, Minnesota and West Virginia"

BIXNOOD & JAMIE get a fucking Census. Black people don't live in those states. More black people live in New Jersey out of all the other states combined.

on 10 Jan 2008 at 8:11 am

10

IceFire

I take out my anger (which I don't get much of anyway) with various computer games…(mainly Supreme Commander right now)

As for pr0nz….what better than The Sims 2? (apart from that other game thats identical to The Sims except for where body parts arent blurred)

on 23 Jan 2008 at 3:24 pm

11

WWE Action Figure

Hi…Thanks for the nice read, keep up the interesting posts..what a nice Wednesday

updatedfreeporn.com's multi award winning adult site offers daily & weekly updated free porn for every niche & desire.free porn pics,free porn videos,free …

on 10 Mar 2008 at 5:37 am

13

Quadzilla

My [female] roommate and I just finished watching "Zodiac" and I blurted out that there are probably less sex crimes in the US because of the advent of the internet and increased access to p0rn. She huffed and puffed and said, "Prove it."

So here I am, reading the statistics, and I'm going to email her this link tomorrow morning. It'll probably ruin any chance of hooking up with her, but that doesn't really matter, because me and my laptop spend some quality time with each other every night and there's no headache excuse, no innuendo, no passive agressiveness, and no complaining; no dinners to buy, no flowers to deliver, no walks on the beach, and no pressure to buy a diamond ring.

I wake up each morning refreshed, energized, and end up going out into the world, treating people with respect, courtesy, and love.

on 12 Apr 2008 at 7:38 pm

14

russell

Quadzilla and I feel exactly the same way. I watch porn, lots of it, 1-3 times daily. It's on my mp3 player so I can rub out a quickie in the bathroom at work, or anywhere I want. It's a very nice release to bust a nut while watching some raunchy distubring porn, and then go right back to the world with a calm demeanor. I treat women with respect, and in fact, my porn viewing has increased significantly over the past year, and at the same time my ability to make a woman feel good about herself, and the interactions she shares with me have improved.

The comments here are sheerly profound… well-said, Quadzilla and others like!

on 13 Apr 2008 at 2:01 am

16

marilynn

Tying internet access only to porn viewing is totally stupid. The places with the highest internet access are also obviously those with higher income and education levels. There are a lot of other factors going on here. BAD SCIENCE! The variables being considered are not isolated at all.

on 08 Jan 2009 at 2:22 am

17

Nige

Clearly porn is a relief, after a good **** the world seems a much calmer place. Having said that, I don't like violent films, but I don't really have an anger problem either.

on 07 Feb 2009 at 10:37 pm

18

sikismis

on 08 Jun 2009 at 2:52 pm

19

Waffle

>Tying internet access only to porn viewing is totally stupid. The places with the highest internet access are also obviously those with higher income and education levels. There are a lot of other factors going on here.

I had that thought too, but if that were the case you'd expect a consistently high rate of rape in the poor states and a consistently low one in the rich states. That isn't what the data says.

The data says that something new has come along and pushed rape rates down in the rich states, even while it's going up in the poor states. The correlation suggests that in this case "something new" is the internet.

Interesting article and a good read, thanks. It will be compelling in 10 years to find out how much more of an impact the Internet will have in relation to sex crimes, as it's still in its relative infancy.
www.SexAriseOnline.com
Write a Comment